Deadline for applications is Jan 31, 2024.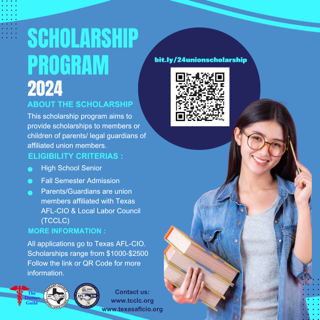 There are currently 3 Scholarships sponsored by the Texas AFL-CIO,
3 Scholarships sponsored by Tarrant County CLC, AFL-CIO, and
1 Scholarship sponsored by Doctors Guild #4
2024 IAM Scholarship Competition – Deadline is Feb 2, 2024
Amount of the Awards
Awards to members are $2,000 per academic year. They are granted for a specific period from one to four years to enable the member to earn a Bachelor's degree or a two-year vocational/technical certification.
Awards to Children of Members are:
College – $1,000 per academic year. All awards are renewed each year until a Bachelor's degree is obtained up to a maximum of four years.
Vocational/Technical School – $2,000 per year until certification is reached up to a maximum of two years
Union Plus Scholarships Applications due Jan 31, 2024
Reduced College Benefit -EBS Machinists Custom Choice for IAM
Information on Vocational training and schools